Cardi B Is 'Depressed' About Her Post-Baby Body — Find Out Why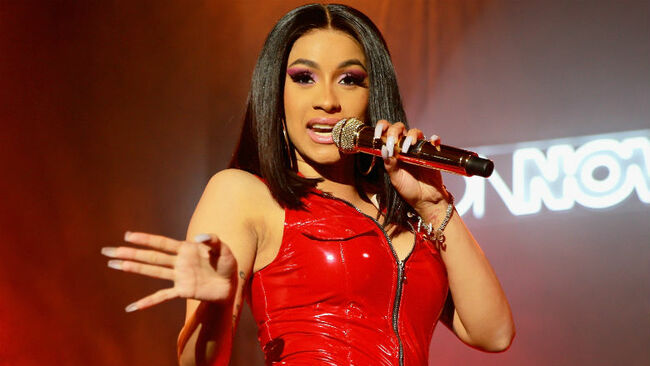 Cardi B's post-baby body isn't exactly what she had in mind.
Since welcoming her four-month-old daughter Kulture, the "Money" rapper revealed she's been steadily losing weight, but it's gotten to a point now where she's lost too much for her liking.
"I've been very depressed because I cannot stop losing weight," Cardi said on Instagram Live Thursday (November 15). "And it's so crazy because when I first gave birth, I did everything to lose my baby weight. I was drinking Teami [tea, a weight loss tea] so it could curb my appetite and now that I lost all the baby weight... I don't like looking too skinny."
"I used to look too skinny as a teenager and I used to hate it and I hate it now," she continued. "It's been really depressing me, making me sad. My weight." Card also said her breasts are now "saggy" and she's having to learn how to combat not having an appetite.
"Sh*t is so stressful, not having no appetite at all.... I'm really trying to gain weight, y'all, and it's been hard and I don't know how," the first-time mom admitted. "After I gave birth, I was so thirsty to lose all the baby weight, and now it's so hard for me to gain weight, and I hate it. Then my parents … the more they force me to eat, the more I don't want to eat."
While the "Bodak Yellow" rapper admitted to having some body image issues, she did say she likes having a "six-pack right now." However, she "needs" her thick thighs back.
While she may not like what pregnancy did to her body, Cardi is definitely loving the perks of motherhood, which she also discussed in her Instagram Live.
"I love motherhood. I love learning everything. When my baby cries, I know her gums are hurting, she's constipated or she sleepy. I love being a mom more than anything," the 26-year-old rapper said. "Like, damn I made this sh*t? They took my best egg," she said of her baby girl, who she and her husband Offset have yet to show to the world. "Yo, her lips is crazy...her lips is a mix of Offset, [my sister] Hennessy and Rihanna's lips. This might be Rihanna's baby!" she joked. "She's just so exotic looking. She just like...I don't know. She don't even look like me. Then her eyes, they just so—wow! They so big. And it's like, what the hell? I don't got big eyes and Daddy don't have big eyes...she looks like a doll."
Photo: Getty Images